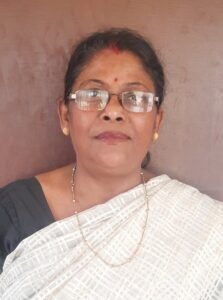 Mrs Rupanjita Bora
Phone No & Email id : 8638771587  borarupanjita@gmail.com
Date of Birth : 16-04-1966
Date of Joining : 27-06-1995
Teaching Experence : 27 yrs
Date of Superannuation : 31-04-2026
Academic Award/distinction : 1st class in MSc
Details of Staff Development Programmes:
Name of the Workshop

Conducted By

Duration with Date

National Level Seminar Cum Workshop On Teaching Technology

At Samuguri College, Nagaon

On 3rd January 2015.

National Workshop On Tea Plantation and Management

At Jorhat Kandriya Mahavidyalaya

On 16th to 17th December 2016

National Seminar On Recent Trends in Environment Responsive Chemical Process

At D.R. College, Golaghat

22nd to 23nd September, 2017

State Level Workshop On Assessment and Acrediation of Quality in Degree Collegeof Assam.

Organized By IQAC CNB College, Bokakhat, Assam

On 27th February 2017

UGC Sponsored Two days workshop on Ferming Techniques and Sustainable use of Medicinal Plants

At DR College, Golaghat

On 11th to 12th September 2017

Two days Science Accedamies Lacture Workshop On Biodiversity and Human Walfare.

At Kakojan College, Jorhat

On 5th to 6th October 2018

One Day State Level Workshop on NewMethodology of NAAC Assessment and Accreditation

At JDSG College, Bokakhat

On 30th Nov 2019

One Day State Level Workshop on National Eduvation Policy

At Jaya Gogoi College Khumtai, Golaghat

On 3rd February 2022

National Level Workshop Cum Training on Natural Medicine and its Co in Biomedical Sector

At CNB College, Bokakhat

On 21th to 22nd February 2020

Seminar – Paper Presented

Namr of Seminar

Coducted By

Title of the Paper

State Level Seminar on Biodivesity of North East India

Tezpur University Assam

"Studies of Species Diversity and Economic Value of Passssion furits Passiflora Edulis" on 4th Feb 2009.

International Seminer on Bioresources and Human Sustanance

Deptt of Zoology Cotton College, Guwahati

"Survey and Identification of certain Wild Plants ………… Dying Characteristic on 20th to 22nd October 2011

National Seminer on Rural and Urban Waste Management

DKD College, Dergaon Assam

"Study on Rural Effluents and its Impact on Biodiversity in an around Naumaligarh, Kaziranga Area on 18th to 19th January 2013

UGC Sponsored National Seminer on Biodiversity Conservation, Crisis and Sustainable use

N.N. Saikia College, Jorhat, Assam

A Method for prepartion of been form Rice Ash used by Mishing Community of Assam India on 29th and 30 th sept. 2014

Details of the Training Programs that attendent

RC/OC attended :

Academic Staff Development Programs

Conducted By

Duration with Date

 
 
 

Orientation Programmes

HRDC – Gauhati University

15th December to 11th January 2018

Refresher Course

HRDC – NBU

6th July 2017 to 26th July 2017

Short Term Course

Department of Soil Science Assam Agricultural University, Jorhat assam

20th to 29th July 2006

Faculty Develoment Programs

IIT Guwahati Associated with NN Saikia College, Titabor Jorhat

2nd Appril to 27th April 2019

Faculty Develoment Programs

IIT Guwahati Assiciated with HPB College Golaghat

27th January to 1st February 2020
Other Activities :
Chairperson of Women Cell CNB College, Bokakhat
2. Chairperson of Committee for Monitoring Sexual Harashment in Workplace.
3. Convenor of seminar arrangement committee  ( Biological Science)
4. Inspection  of the examination centre as obsever PG previous Examination under DODL 2019 to 2022, 
5. BSC examination, CBCS/Non CBCS under Dibrugarh University 2019 to 2021
6. Presiding Officer of Assam Legislative Assembly Election 2021
7. External Evalutor of Gunutsav 2018, 2019, 2021, and 2022.
8. As a resource person at Prayash Vidya Mondir Bishnupur Golaghat on 11th Feb. 2022