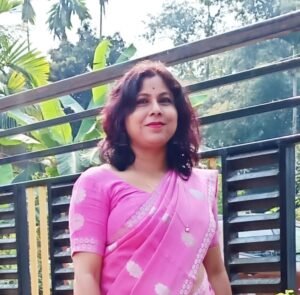 Dr. Madhulika Dutta
Specialisation

Chemistry (Inorganic, Bioinorganic Chemistry)

Phone No. & Email ID

9401125355

duttamadhulika@gmail.com

Date of birth

30/04/1972

Date of joining

01/08/1998

Date of superannuation

30/04/2032

Academic award/Distinction

Nil

NET/SLET/SET/M.Phil/PhD

PhD

Year: 10/09/2019

Topic: "Environmental Studies on coalmining activities around Ledo colliery of NorthEastern coalfields."

Workshop attended

1.National Thematic Workshop on '' Advances in Nanostructured Materials:Applications and Perspectives (ANMAP)'', 2016, The Assam Kaziranga University, Jorhat, Assam.

2.Sate level workshop on "Assessment and accreditation of quality in degree colleges", 2017

Seminar attended

1.National seminar on Indian Higher Education in 21st Century, 2013, University of Science & Technology, Meghalaya.

Title: Importance of Introducing Biodiversity issues in Higher Education.

2.National seminar on Rural and Urban Waste Management, Health and Economic Consideration, 2013

Title: Study of Rural Effluents and Its Impact On Biodiversity In and Around Numaligarh- Kaziranga Area

3.  Material Research Society of India Symposium- 2016 on "Advanced Materials For Sustainable Applications"

 Title: Environmental characteristics of coal, overburden, soil and Sediment from Assam coal mining drainage''

4.  UGC sponsored National Seminar on "Recent Trends in Environment Responsive Chemical Processes (RTERCP-2017)".

Title: Environmental pollution from coal mining activities: a case study of Ledo open cast mining (Assam)

5.  XVII International Seminar on "Mineral Processing Technology (MPT-2018)"

Title: Acid Mine Drainage in Assam (Northeast India) Coal Mining Industry: Physico-chemical characteristics of mine water, coal, overburden, soil, sediment, and their seasonal variations.

6. National seminar on Conservation and preservation of Bioresources in North-East India,2019

Title: Impact of Coal Mining Activities on Stream Biodiversity in North-East India: A Case Study

Conference attended

National Conference on "IPR IN BIO SCIENCES FOR SCIENTISTS FROM NORTH- EAST INDIAN STATES'',2015, University of Science & Technology, Meghalaya.

2.poster presentation inInternational Conference onESTEC-2020, CSIR-NEIST, Jorhat, Assam, India                                                                                           Title:Coal mine drainage from Ledo colliery of Northeastern coalfields and its consequences on the environment.

Orientation Course attended

05/06/2013-02/07/2013, NEHU

Refresher Course attended

19/03/2018-08/04/2018, NEHU

Research paper published

Paper published:

1.Environmental assessment and nano-mineralogical characterization of coal, overburden and sediment from Indian coal mining acid drainage (Geoscience Frontiers 8 (2017) 1285-1297)[ IF 7.46]

2. Physico-chemical and elemental investigation of aqueous leaching of high sulfur coal and mine overburden from Ledo coalfield of Northeast India (International Journal of Coal Science & Technology, September 2018, Volume 5, Issue 3, pp 265–281)[IF 2.62]

3. Acid mine drainage in an Indian high-sulphur coal mining area: a cytotoxicity assay and remediation study (Journal of Hazardous Materials, December 2019)[IF 9.038]

Book chapters published

1.A study on the rural effluents and its imp act on the biodiversity in and around Numaligarh-Kaziranga , Assam, India

ISBN: 978-81-924389-5-5

Other activities

Participated in webinars during lockdown:

1.Research in public and private funded institutions: Its special impact. Organised by Research Cell, Assam Down Town University, 22nd June, 2020.

2.Qualitative and quantitative understanding of processes: How and Why? Organised by Department of Chemistry,St Aloysius College, Mangaluru, 2nd July 2020.

3. Trends in future research in chemistry. Organised by department of chemistry, St Aloysuis College, Mangaluru, 13th July, 2020.

4.Becoming Eco-Literature: How Scientific and the Public can better understand each. Organised by Zoological Society of Assam, 30th July, 2020.

5. Introduction to electron microscopy with live imaging demonstration. Organised by department of chemistry, St Aloysius College, Mangaluru, 10th August, 2020.