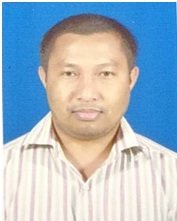 TULSI BORA, M.Sc. B.Ed., B.Li.Sc. Ph.D.
Ø  NAME OF EMPLOYEE
 Dr Tulsi Bora 
Ø  EDUCATIONAL QUALIFICATION

M.Sc, B.Ed, BLiSc., Ph.D.

Ø  SPECIALISATION

Graph Theory

Ø  PHONE NO & EMAIL ID

6002888787,

boratulsi7@gmail.com
Ø  DATE OF BIRTH

01-01-1984

Ø  DATE OF JOINING

05-08-2009

Ø  DATE OF SUPERANNUATION

01-01-2044

Ø  WORKSHOP ATTENDED
1.      Application on MATLAB AND MATHEMATICA Organised by Deptt. of Mathematics, Bahona College, Jorhat, Dated 27th April to 3rd May 20152.      Analysis and Probability-2016(NE-SWAP 2016) Organised by Deptt. of Mathematics, Rajiv Gandhi University, Arunachal Pradesh Dated 31st May to 4th June'2016.

3.      Research Paper and Project Proposal writing Organised by Dibrugarh  University Research Scholars'     Association (DURSA) in Dibrugarh University Dated 24th and 25th October'2016.

4.      Network Modelling and Graph Theory Deptt. of Mathematics, Dibrugrah University Dated on 14 to 16 December 2017

5.      Scilab and its Application organized by E&ICT Academy,IIT-Guwahati, associated with DR College,Golaghat from  4th November to 8th November, 2019.

Ø  SEMINAR ATTENDED

(i)UGC Sponsored National Seminar of Contemporary Issues of Mathematics and Statistics, Gargaon College, Assam,2013,

(ii)National Seminar on Recent Trends in Theoretical and Applied Statistics-IV( RTTAS-IV ) held in the Department of Statistics, Dibrugarh University, Assam, India on March 15-16, 2019.

(iii) A International Conference(online) on Recent Trends in Mathematics and its Applications to Graphs, Networks and Petri Nets(ICRTMA-GPN-2020) hosted by School of Computational and Integrative Science, Jawaharlal Nehru University, New Delhi held on July 20-24, 2020 presented a paper entitled "Basic Centrality Measures on Urban Transport Network Nodes."

Ø  OC,RC ATTENDED
OP-99 from 2nd June to 29th June'2014 in

Academic Staff College, and obtained

Grade (A) at UGC-HRDC,

Gauhati University.

Ø  RESEARCH PAPER PUBLISHED

1. "Bridging Centrality: Identifying Bridging Nodes in Transportation Network" on  Int. J. Advanced  Networking and Applications, Volume: 09 Issue: 06 Pages: 3669-3673 (2018) ISSN: 0975-0290.

2. "Laplacian centrality in Transportation Network" on  International Journal of Research and Analytical Reviews(IJRAR), Volume: 6 Issue: 1 Pages: 236-242 January 2019 E- ISSN: 2348-1269, P-ISSN 2349-5138.

3. "Road network connectivity and spatial pattern of Dispur city." Published  at JETIR International Journal (ISSN: 2349-5162): Vol.6, Issue: 5 (2019), Page: 502-510

Ø  OTHER ACTIVITIES

1.      Conducting various Final Examination and External Examiner under Dibrugarh University.

2.      Conducting   HSSLC examination  among different institution as a Asst. officers incharge.

3.      Experienced as a Supervising Officer in HSLC Examination.

4.      Govt. duties viz. Parliamentary , Assembly and Panchyat election duties

5.       Responsibilities at College week.

6.       Different programmes held in college and social places.

7.       As a guide in College excursion.

8.      Popularization of Mathematics among the school students through the Departmental societies

9.       Life Member of  Assam Academy of Mathematics organization.

10.  A central  member of Executive Council of Assam Academy of Mathematics  for 2016 and 2017, Elected in the General Body Meeting held on 30.01.2016.