OVERVIEW:
Botany, one of the pioneer department of CNB College established in 1995. The major in botany was first started in the year 1998 under Dibrugarh University. The first founder teacher of this department were Mr. Tulshi Borah and Mrs Rupanjita Borah. The first batch Major students was composed of five students and all of them successfully completed their degree. from this department Mr. Debajit Borah stood first class and getting 9th position under Dibrugarh University. Since than the department has producing human resource with good academic carrier and overall performance. 
The department has a semi library with 200 books and the department has a well equipped laboratory to carry out all the Major/Honours practical classes..
The foremost mission of our department is to enrich the society with the knowledge of plant science. We try to inculcate the students both in theoretical and practical knowledge so that they become able to identify, utilize, and conserve plant diversity of our country specially of this region which is regarded as one of the 'Hot Spot' in biodiversity of the world. Besides as our college is in the neighborhood of Kaziranga National Park, we always put emphasis on conservation, identification and utilization of indigenous plant resources. We also gather  knowledge about the ethno-botanically important of plant resources utilizes among the different tribal communities reside near Kaziranga National Park.
FACULTY MEMBERS: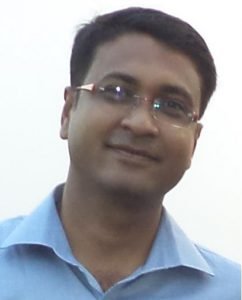 TULSHI BORAH                RUPANJITA BORAH        DEBAJIT SAIKIA        JITUMONI S. PATHAK 
STUDENTS ACHIEVEMENTS:
The students of the Botany departments excels in the TDC final examinations.  Last three years record is as follows-
2016 – 11 (Eleven) First class
2017 – 4 (Four) First Class
2018 – 14 (Fourteen) First Class
2019 – 27 (Tweenty Seven) First Class
2020 – 5 (Five) First Class
WALL MAGAZINE: "PARIJAT"
STUDENT'S AND DEPARTMENT ACHIEVEMENTS:
 ON SCIENCE DAY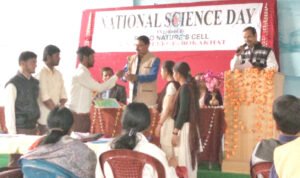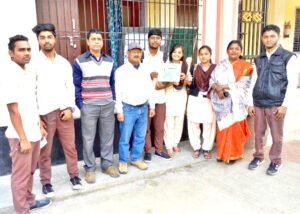 FIRST PRIZE IN SEMINAR PRESENTATION ON SCIENCE DAY
FIRST PRIZE IN QUIZ  COMPETITION ON SCIENCE DAY 2021
(ANKIT GHOSH AND UDHAB SHARMA)